February 01, 2023
Saddle Pad Giveaway - Enter to Win!
By Paulita Neff
42 Comments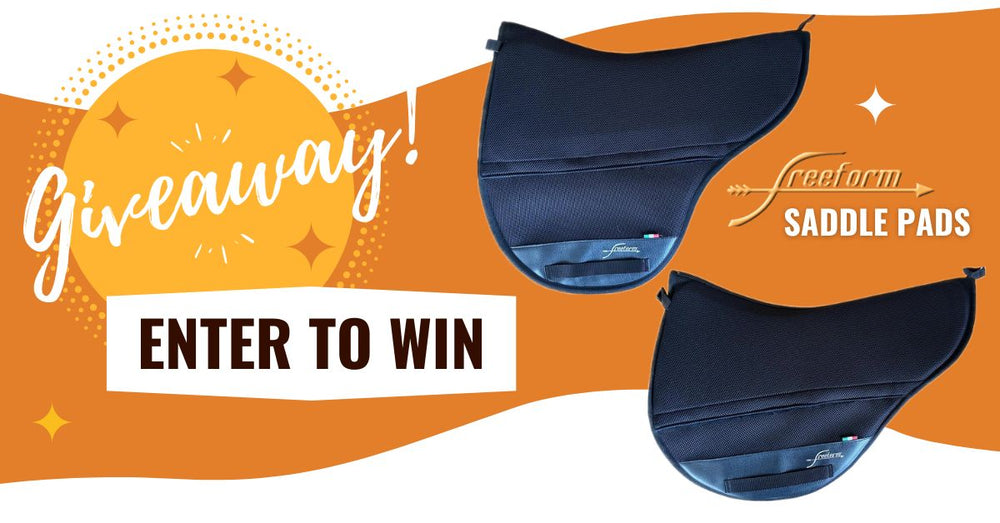 Winners Announcement!
Woohoo – thanks to everyone who entered - our Saddle Pad Giveaway WINNER is Jennifer Morris and her horse Pete! Jennifer – please call (540) 271-4577 or email us to claim your Saddle Pad (we'll need shipping info).
…We put everybody's name in a bowl and let Hattie pick it out. We think she did a great job! We read each individual request for the pad and wish we could send everyone a pad. Thanks to all who entered – this has been so much fun!
 ............................................................
We're giving away a Freeform Sympanova Saddle Pad - Will you be the Lucky Winner?
Freeform saddle pads offer high wither relief, a strong sympanova underlay and top quality craftsmanship. These pads work with both treed and treeless saddles.
Made in Italy, exclusively for Freeform, the pads are available in standard and shortback sizes in English and Enduro styles.
Contest ends ​February 28, 2023. Good luck and tell your friends!
Enter to Win — in 2 Easy Steps
Visit our Freeform Saddle Pads category – and choose the saddle pad you would like to win. Note: Freeform pads work with treed or treeless saddles. Fleece backed pads are not included in this giveaway.
Comment/reply below – on this blog post – noting these three things:
Which Freeform saddle pad you chose – (standard, shortback, English or Enduro.)
What type of riding you do.
How this pad will benefit your horse.​​​
Contest Rules
You must complete all steps above to be eligible.
Selection limited to Freeform sympanova saddle pads. Freeform fleece pads not included.
Scroll to the very bottom of this page to the Leave a Comment box and enter your reply.
Open to U.S. Residents only.
Contest closes February 28, 2023.​​​​
Winners Announcement & Notification
WHEN: Winners announced March 3, 2023.
HOW: Winners are posted on this blog post and our Facebook page: Freeform Treeless Saddles.
​Please check for our winner's announcement. Instructions will be posted to claim your saddle pad. This is the only way to notify the winners.